---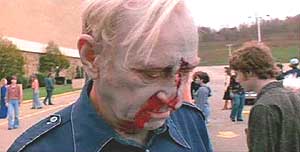 Christine Forrestīs father (Cliff Forrest Sr.) played a zombie.
---
The father from Nick Tallo (Biker) played the zombie who attacked Steven at the airport (Mr. Tallo passed away some years ago).
---
The ice-range (in the back of the zombies) is now a food-court.
---
The gunshop is not located in the mall - it was somewhere in Pittsburgh (it went broke).
---
The kids which attacked Peter at the airport-office, was Tom Saviniīs niece and nephew.
---
The producerīs wife (Katherine Rubnstein) appeared two times.
---
Jenny Jeffreys was the make-up assistance and the girl-friend of Tom Savini.
---
Cliff Forrest Jr. (brother of Christine Forrest) appeared in the TV-studio scene. Heīs the one who shaked Fran out of her sleep.
---